Regi Carpenter
Storyteller, Author, Consultant

Performances
Whether performing at an intimate gathering, a large festival or a convention of business professionals Regi Carpenter brings a remarkable blend of warmth, humor, and depth to every performance she gives. Regi captivates audiences with traditional stories from around the world as well as stories of the irrepressible Carpenters growing up in the Thousand Islands on the St. Lawrence River in Clayton, New York for four generations.
Stories have taken Regi into schools, homes, hospitals, hospices, retreat centers, festivals and faith-based communities across five continents. As a solo artist Regi has produced seven award winning CD's, published an acclaimed memoir and released a notable DVD of her riveting story, Snap!, which won first place in the Boston StorySlam in 2011.
Several publications including School Library Journal, Storytelling World, and Parents' Choice have praised her work. Regi has been a featured storyteller on The Moth website and NPR. She is also a TedxTalk presenter.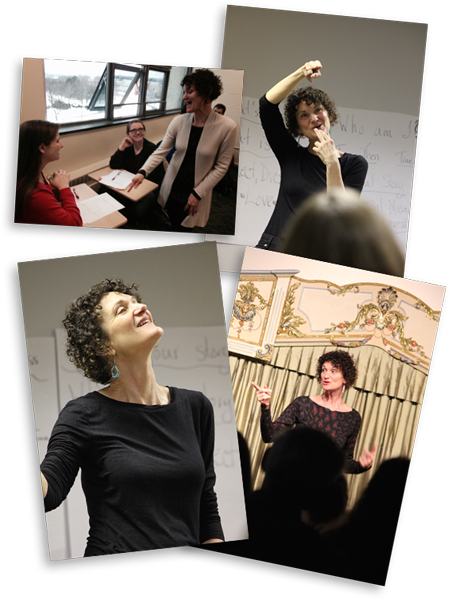 Workshops
Regi is a pioneer within the growing movement of Narrative Medicine. Utilizing the spoken and written word as well as deep listening techniques for patient and caregiver, Regi knows that stories are a powerful medicine capable of bringing solace and strength to those in physical, mental and spiritual need.
Her trainings for healthcare professionals focus on the use of stories in clinical work. Her presentations and performances for healthcare organizations employ stories for professional development and positive employee relationships. With a special commitment to pediatrics, Regi brings songs of joy and stories of hope to grieving children and the people who love and care for them. Previous clients include Compassus Hospice and Palliative Care, The National Alliance for Grieving Children, Kennedy Krieger Institute in Baltimore, Maryland and the Mountain States Health Alliance throughout the southern United States.
Learn More...
Testimonials
What others are saying about Regi's storytelling and workshops
"[Regi's tales are] an unexpected gift that promises to leave us longing for more empathic vignettes from this comfortable, compelling voice."

Booklist

Review of CD Diving and Emerging
"Profoundly moving, heartfelt, courageous and altogether inspiring."

John Paul Lyons

Ithaca, New York
"She is among the very best of a talent-studded field."

Caren Niele

Producer
"There is such a sincere charm to her subtle – yet swiftly quite spirited and sly – telling. As she affectionately unrolls her tapestries of personal narrative drawn from generations along the St. Lawrence River in upstate New York I am thoroughly charmed by how seamlessly she weaves the threads of genuine reflection, baby boomer sensibilities and whimsical song. In a word, captivating."

Joel Rhodes

Director, Cape Girardeau Storytelling Festival