Part of every storyteller's summer is performing in public libraries, usually not like this one.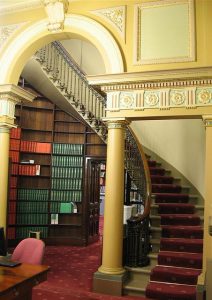 More often like this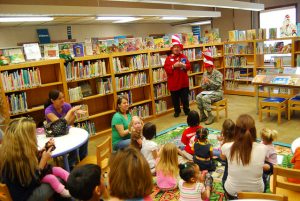 Dave Ruch and I met last summer when we were both doing a showcase for the Northern New York Public Library System. Dave's work was wonderful, interesting, kid friendly and very professional. You can see more about Dave's work here. Dave's written a great blog for any artist interested in performing in public libraries this summer. Here are some of his expert tips. See you at the library!
Participating in as many library performer showcases as I can (Google "[Your state] library performer showcase")
Watching upcoming summer reading program themes to see if I have a good fit
Listing my various programs on the "Performers and Programs" website resource for New York State librarians. Your state or location may have a similar site
Lots of email to market my programs to librarians (this has been very effective)
Folksinger, storyteller and multi-instrumentalist Adam Miller has played over 2,000 American public libraries in 48 states.
Here's what Adam had to say about program content and promotion:
"Librarians seem to respond to the historical and literary content of my program. They seem to want a presenter who's offering is both educational and entertaining. Without a great website and public library program brochure, I don't think I'd be able to book so many library gigs. Very important to have hi-res photos and good PR text available for download (too)." 
Think about branching out geographically. There are a LOT of libraries out there.
And, better promotion than all of the above? Stop me if you've heard this before…
Word of Mouth is King
I can't tell you how many times a phone call or email from a librarian has started with this:
"A librarian friend told me what a wonderful performance you did for them…."
Word of mouth is the very best way to get library (and all other types of) gigs.
Back to Adam Miller:
"The single most important ingredient to getting a library booking is a great recommendation, in writing, from another library client in that library system, county, state, or region. The accumulation of such client testimonials is, perhaps, the single most important asset to the performer seeking a library gig."  Adam Miller, Entertainer
The library side of the equation agrees completely. Here's Sue Wool, Director of the Wead Library in Malone NY:
"The performer should have experience at public libraries. I would be more likely to book a performer that someone I know has recommended, or that I have seen myself."  
What to do if you don't have any references or performances under your belt?
Get some!
If you've done library shows before, call up the librarian who booked you and see if they'd be willing to write you a brief letter of recommendation.
No experience whatsoever?
Storyteller Regi Carpenter has some pretty cheerful advice:
"It's easy to "break in" to libraries because librarians are the best people! Call up your local librarian and ask if you can do a program. Ask them what themes they are working on. Send postcards and emails. Librarians love to program artists so don't be afraid, just call them and give it a go!"  Regi Carpenter, Storyteller 
Pricing for Library Performances
Performer pricing for library events is literally all over the board. Same for library budgets.
Personally, I've been paid anywhere from $250 when I was first starting out to $2,500 for my trio to play a very well established concert series.
Far more typically, my pay has been in the $350-700 range for a solo performance.
If you charge less than that, you WILL get more work. Ultimately, it's going to boil down to your circumstances.
Not sure what to charge?
Take a look at the Performers and Programs website and do a search by the category of performance you fall under. You'll get a great idea of what other performers in your genre are asking for library performances in New York State (although not a great feel for how many calls they're getting). While you may need to adjust slightly for your state or region, this is a quick and easy way to assess the landscape.
Here's storyteller Regi Carpenter again, on the subject of pricing:
"I always give libraries a sliding scale. They don't have much money but I give discounts and I also offer them residencies that allow me to perform for them multiple times throughout the summer and I give them a discount. I prepare ten different programs and that way I can get to know their community and what they like and need." 
Musician Adam Miller's rates:
"In 2015, my library fees were: $400 for one program, $750 for two programs or branches, and $1,050 for three programs or branches. I like performing in libraries because it allows me to sell each and every date of a given tour, 7 days a week (and sometimes two venues a day)."
Nancy Bailey, Library Manager at the Byron-Bergen Public Library in Bergen NY, thinks about it this way:
"The ability to be flexible on cost would increase a performer's chances of being booked because what you charge a larger library for a group of 50 or more may be different than what you charge a smaller library that only gets 15 in a group. A willingness to have multiple shows in one area to cut costs for both the library and performer is also a plus."
Final Advice from Librarians
I thought we'd give the last word here to the librarians as we wrap up…
Sue Wool from Wead Library:
"From our perspective, a successful performance is one in which each member of the audience (young and old) is engaged and involved. As the audience leaves the show, they are talking about it with each other, and asking when the library will be offering the next one! The performer should appeal to an audience with a wide age range, and be really flexible with the audience."
Nancy Bailey from Byron-Bergen Public Library agrees:
"(We like) an engaging performance that incorporates people from all age groups." 
Perhaps most importantly, she said "(we look for) someone that is easy to work with." 
One Last Question
I asked my neighbor Peg Mauer from the Goff-Nelson Memorial Library "what would increase a performer's chances of being booked to perform at your library?
She said "as long as you're the performer, there's nothing that you can do to increase your chances!" 
I wonder which way I'm supposed to take that….
Leave me a question or comment in the Comments section below!
---
About The Blog
Since leaving a white-collar marketing job in 1992, Dave Ruch has been educating and entertaining full-time in schools, historical societies and museums, folk music and concert venues, libraries, and online via distance learning programs.
Along the way, he's learned a great deal about supporting a family of four as a musician.
The Educate and Entertain blog provides articles, tips, encouragements, and how-to's for regional performers (in any region) interested in making a great full-time living in the arts.